[ad_1]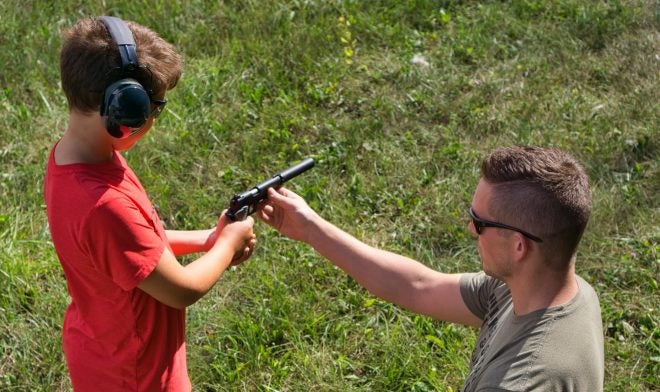 I was once under the false belief that my physical attributes, that I was given at birth, were pretty much unchangeable – except for the expanding girth and need for cataract surgery – that has mostly proven true. Or, so I thought. My hearing was fine until it wasn't. Could be genetics. Could be years of running farm machinery. Could be some carpentry tools used in confined spaces. Whatever the cause I how have several hearing aids and dozens of different types of hearing protection options – all really good at preventing more horses from leaving the barn if you follow my metaphor. Had I taken to wearing hearing protection every workday I'd still be able to hear sweet high violins and a single female voice (my wife's, of course) in a crowded room.
In preparation for this article I piled my existing stockpile of hearing protection on my desk. I could arrange the hearing protection by:
Cost

Low: Foam Inserts
High: Custom Fit Hunting/Shooting Inserts made by my Hearing Aid Company

Frequency of Use

Low: Custom Fit Inserts
High: Over-the-Head Earmuffs with Amplification for hearing those Squirrels Sharpen their Nails on the Pine Tree above my Blind

Ease of Use

Low: Those that require Special Batteries
High: Those I can Stuff in Quickly or Snap on my Head

Potential Interference

Low: Foam Inserts
High: Big Muffs that Interfere with Cheek Weld on your Hunting Rifle

Where it will Likely be When I Need to Use It

Low: Availability; On a Charger Somewhere
High: Availability; Tucked Next to my Pistol or in my Office Gun Safe

Traditional vs Innovative

Traditional: Finger in One Ear while holding the Gun with the Other Hand
Innovative: Ear Buds with Bluetooth, Cellphone Connectivity, etc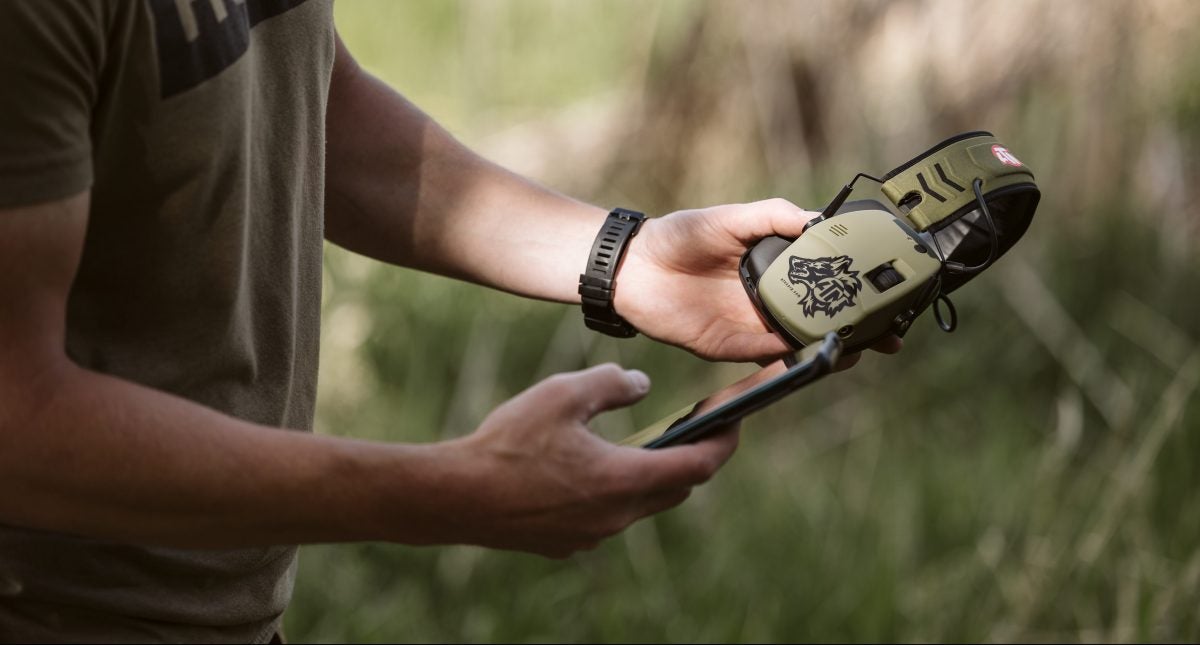 I have even tried shape shifting the piles by professional uses: protection wood workers might use; ear plugs for rock and roll band reviewers [really, they have a favorite]; protection used by heavy equipment operators; then, there are the specialty protection used by high school band directors and those who host birthday parties of little sugar infused children. I have even looked at what other noise-enveloped professionals recommend for safety equipment. Consider logging safety equipment with the hard hat, built-in hearing muffs and face shield would certainly work, but few of my students would choose to wear that protective gear.
After all that arranging, trying, and figuring out where to put what type of battery where I have reached the ultimate conclusion: the best hearing protection device is – the one you will use. They will all save your hearing if properly fit and used consistently. Some will feel better. Some might even look better. But, the one you use is the one that will save your hearing.
The question frequently asked is "do I put on hearing protection if I confront someone in my home?" There is no one right answer (I do have an answer I give, but more on that later). The best answer is really a question that will help the student speak out loud what they think they might encounter… what state they might be in when they encounter the situation… and what they think they likely will encounter. You can talk about auditory exclusion and other psychophysiological phenomena, but what the student is really asking is:
"How realistic is hearing protection in my view of the world?"
If they chose to wear protection during a home invasion (even a .22 fired in a home is really loud!) they need to practice just like they would when they add a flashlight, cellphone, knife, gun, or any other protective device/hearing protection. Everything you bring to a situation you had best practiced with under the stress of fear, time, and darkness.
Back on task. A few years back we took a family vacation and part of the itinerary involved a local shooting club. The family that shoots together… well, has a lot of fun. This particular outing cost me a Smith & Wesson 22A and a red-dot – but that is a different story. We had our "eyes" and "ears" on while following all the safety rules. Soon after we started banging down range another family came to sight in their hunting rifles. This was a bunch of guys, ages 10 – 50, by my estimate. When we noted they had no hearing protection my wife took a handful of foam inserts over to the oldest man and offered them to him. He said a polite "thanks," turned around, and handed them to the youngest shooter who made two feeble attempts at insertion before he threw them to the ground. The old man picked up the foam inserts and stuffed them in his jeans pocket. I didn't glare or stare, but I'm pretty sure I thought "there is a teachable moment lost."
So, back to our main point. That is, hearing and eye protection should not be an after thought when teaching someone to shoot. We require hearing protection no matter the protestations of the student. The most popular choice is disposable foam inserts, but a close second are muffs with enhanced hearing. We have some for tiny heads and some larger muffs for people who think they know everything.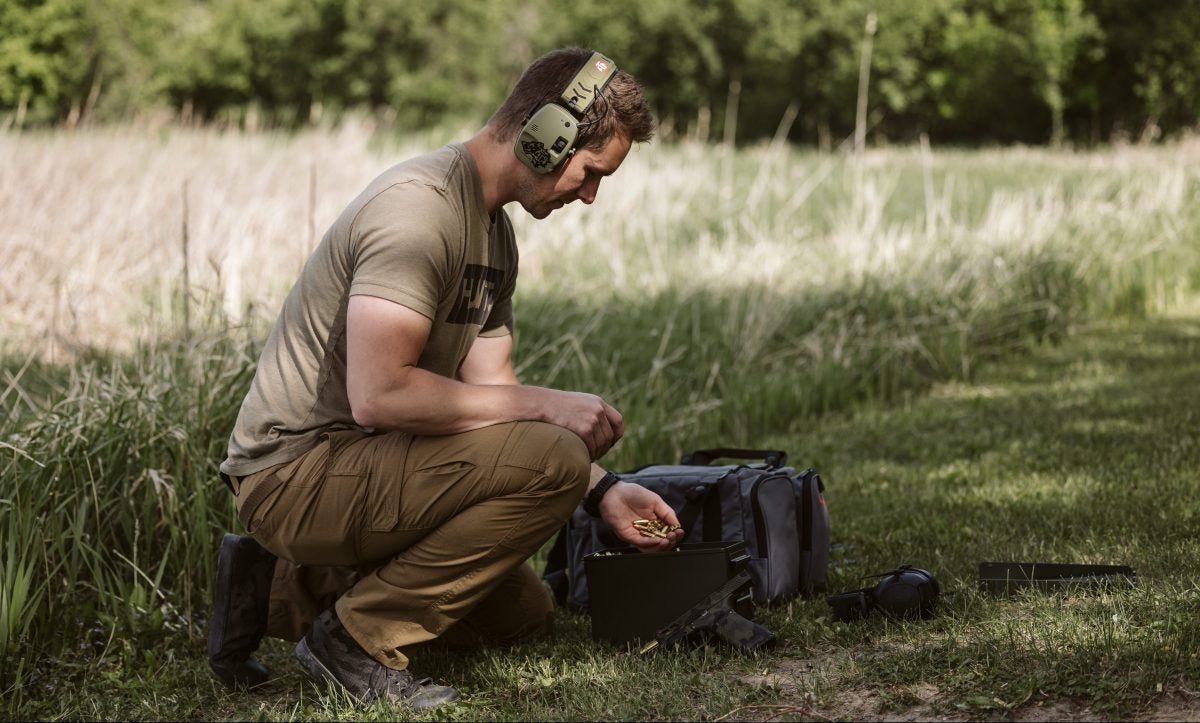 Of course, we encourage people to bring their own "hears and eyes" protection, but often they don't. In fact, I have a large snap top bin that contains nothing, but hearing protection options that people can sort through once they get to the range. We wipe down what we can with sanitizing wipes when finished.
Here is another universal truth. Of the 10 students at least one will walk up the firing line without hearing protection on even after repeatedly being instructed, and watching myself and the other students don our protection. This is not "I don't believe in all this safety stuff," but mostly the student is so focused on not messing up with the gun they totally forget the basics. I consider safety protection to be basic. At that point I simply place my hand over the gun (we practice range stoppage in class) and say "ears?" They know what to do while I secure the weapon. Your attitude toward hearing and vision safety will speak volumes to your students, and it won't take batteries.

[ad_2]

Source link